Who doesn't like shopping? Okay, maybe there are a few people out there who completely despise this activity. But let me tell you something – when you go on vacation, you have to go shopping at your destination. For one thing, there will be people back home who are waiting for souvenirs. But the important thing is, once you are done vacationing, the things you buy from the city will keep reminding you of the wonderful memories of your visit. You will want something in your home to represent Kerala once you leave the city.
So, here you go. Shop for these things when you are in Kerala. You may not need them all in your life now, but what if you regret not shopping in Kerala once you go back home? You don't want to take that chance now, do you?
1. SPICES
Kerala is called the land of spices and you get spices at very economic prices here. So if you ever visit the state it is mandatory to buy some spices before you return home. Stalk up on black pepper, cinnamon, cardamom, turmeric and cloves. Don't worry, they will not go bad.
2. TEA
Do you have a chai waala near your office or college who, according to you, sells the best tea in the whole wide world? (a little exaggeration intended). Chances are, the tea powder he uses is from the Western Ghats. And where else on the Western Ghats have you seen tea plantations as beautiful as the ones in Munnar or Wayanad?
So, if you are in Kerala and you see a retail shop selling tea powder, do not hesitate to buy some packets for later. Try to buy from the outlets near tea factories like the ones in Munnar. They are possibly fresher and will have better flavour.
3. HANDICRAFTS – COIR, COCONUT PRODUCTS
The artisans in Kerala can make most of the 'useless' things look good. I remember once looking at a wind chime and thinking it was made of some special type of wood and the shopkeeper informing me that it was just coconut shell. They did not look like coconut shells to me. The craftsmanship of the people in Kerala is excellent when it comes to working with wood, coconut shells, coir etc. and so they are a pretty good souvenir to take back home.
4. BANANA, JACKFRUIT, TAPIOCA CHIPS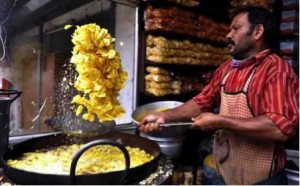 One thing I have seen during my travels through Kerala is that the people here fry everything. And so the possibilities a junk food enthusiast will have in Kerala are many. The banana chips made in Kerala has a unique taste which is bound to leave you wanting more. They have many types of banana chips here including the ones made with raw and ripe bananas. So, the minute you get into Kerala, buy a packet of banana chips for the journey ahead. If you have already tried the banana chips and did not like it, don't worry. Kerala is determined to make you eat 'unhealthy' food. Jackfruit and tapioca chips are also very famous in Kerala and make sure you try them too. After all, who can stick to healthy eating when they travel?
5. PICKLES AND CASHEWS
Since we are on the topic of food, I feel like this is a good time to remind everyone that Kerala produces cashews also. Cashews are a healthier option to the possible obsessive eating habits one might develop while travelling. So, if you feel like ditching the chips one day, stalk up on some cashew nuts.
Also, Kerala makes a lot of pickles to eat with their rice. So all my non-vegetarian brothers and sisters, try the prawns pickle, chicken pickle, meat pickle, fish pickle and mussel pickles. Those vegetarian mates, get your hands on mango pickle, lime pickle, bitter gourd pickle and tender mango pickles. Get some rice to go with it. You will not be disappointed.
6. CLOTHES
Remember Shahrukh Khan wearing a lungi and dancing around on a song specially dedicated to lungis? Lungis maynot be authentic to Kerala, but you can buy as many lungis as you want from Kerala. Now, if you are not very fond of a lungi, you can invest in a Kerala Mundu. Mundu looks very classy with a kurta or a shirt.
The ladies too have enough clothing styles to resort to. Kerala saree is extremely elegant and makes everyone look prettier. You even get salwaar-kameez sets in this material. If not the Kerala saree, you can try and find a pattu pavada set in stores. Make sure you flaunt all the clothes, take photos and make all your friends and family back home jealous.
7. UMBRELLAS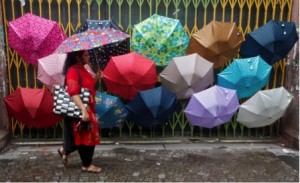 By now you must know that it rains most of the days in Kerala. If not the rain, then the sun is going to burn you during day time. Your escape plan? – Umbrellas. Most people in Kerala use umbrellas and so there are many branded umbrellas available in Kerala in different styles, colours and designs. Buy them. They are durable, stylish and useful. Good investment,right?
8. JEWELLERY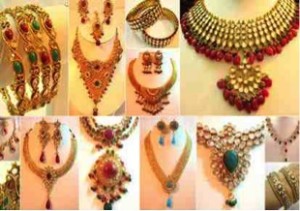 Women! When you wear the Kerala saree or the pattu pavada, you have to wear good jewellery with it! There are many jewellery shops in Kerala selling gold ornaments or otherwise. If you want to invest in some gold ornaments, Kerala would be a great place to buy it from. If not gold, you can buy all other sorts of ornaments also from the many women's fancy shops here.
9. ELEPHANT STUFF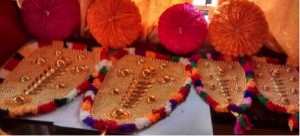 Keralites love elephants. They adore elephants. So, it is only logical that they make curios resembling elephants or their headgears put on them (called "netttipattam" in Malayalam). The elephant figurines look really cute and are made to perfection by the makers. Nettipattom is a really good accessory to decorate your house although it might look a little too much at the first glance.
10. KADHAKALI AND SNAKE BOAT CURIOS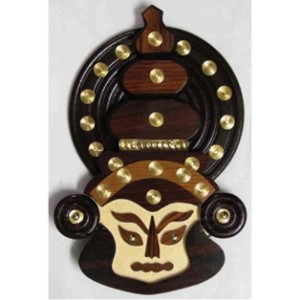 While you are at it, buy some more curios from the shops you visit. Some things are very authentic to Kerala like kadhakali and snake boats. Kadhakali masks and snake boat figurines are unique to the state and buying them is a good decision. After all, you are not going to find them anywhere else!