Wayanad is the land where there is more nature and its elements that there are human beings. So if you are a nature lover and want to spend some quality time among the trees, Wayanad is the place for you. There are many tourist spots in Wayanad which you can have a good time visiting. In this blog I tell you about my visit to Wayanad. What I did and how much I enjoyed all of that. 
GETTING THERE
Getting to Wayand is easy and is by road. The nearest railway station and airport is in Calicut and from there you can hire a cab or take the bus. Your choice.
Since I live in Kochi, we drove to Wayanad and the roads were in good condition. There were no difficulties in getting to Wayanad and the ride was actually very fun.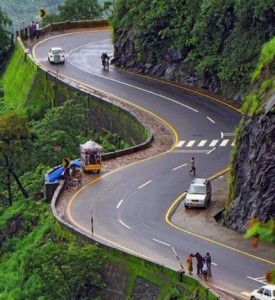 Once you are there, you can check in to your hotel like a usual tourist. However, Wayanad offers a variety of options of stay. You can opt for a home stay where you can stay with the local families and understand the local lives. Alternatively, you can even get a tree house of your own and fulfil that childhood dream of spending a night in a tree house. It is all up to you.
Now you can be a proper tourist and visit all the tourist destinations in Wayanad.
KURUVA ISLANDS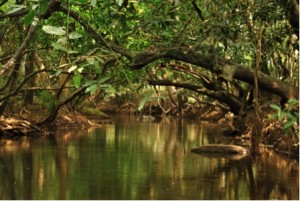 "Kuruva Dweep" as it is called in the native language is a group of islands in the Kabani River. It is a protected region because of the uninhabited forests and the presence of rare types of flora and fauna here. The water in between the islands is shallow and mostly one can walk from one island to another. In deep waters rafts or fibre boats are used for getting from one island to another. There is also a tree top stay available there which you can book if needed.
EDAKKAL CAVES
There are some caves in Wayanad where one can find stone scripts, pictures and many other symbols and drawings on the walls dating back to 6000 B. C. These show proof of early inhabitations in this region by the Neolithic man and hence is frequented by visitors all the time. The caves are also beautiful and this place is surely a must visit when in Wayanad.
CHEMBRA PEAK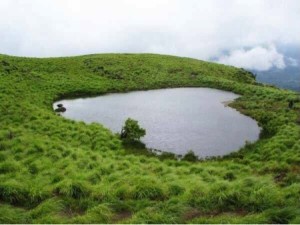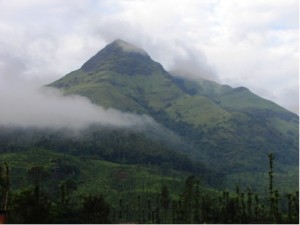 If you are in a mood to trek, Chembra peak is ideal for you. With proper prior permissions, you can even camp in this place with a guide to help you in need. The heart shaped lake on the way, according to legends, never dries up. More than the legends or the trekking, it is the view at different stages of climbing the peak that one can look forward to. The nature is completely elegant in Wayanad and a trek up to Chembra Peak will show you that.
MUTHANGA WILDLIFE SANCTUARY
Muthanga Wildlife Sanctuary in Wayand is home to various types of plants, trees and animals. Tourists are permitted in to the sanctuary on allotted vehicles. You might not be successful in seeing big wild animals like elephants or tigers. On my visit there we were fortunate enough to spot a herd of elephants and see the paw print of a tiger (or that is what our driver said it was). You will definitely be able to see some deers and monkeys if not a tiger. Even if you do not spot any animals, the drive through the dense forest is bound to make your day better. So worry not about sighting animals and take the chance.
WATERFALLS – MEENMUTTY, KANTHANPARA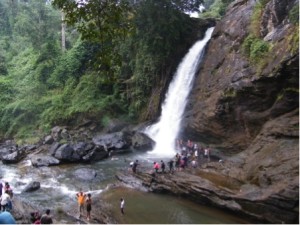 A two kilometre hike through forest land from the Ooty Road will take you to Meenmutty waterfall which is the largest waterfalls in Wayanad. The trek is a little treacherous and tiring. However, once you reach the fall, you will find that the time and effort spent on the trek was worth it. Be careful if you want to enter the water though. During the rains this waterfall is very dangerous.
BANASURA SAGAR DAM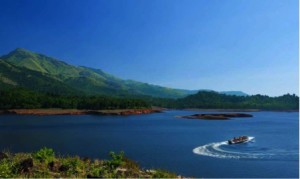 Banasura Sagar dam is frequented by visitors for the spectacular views got during a speed boat ride in the water there. One can hike a kilometre to reach the dam or be dropped off in a jeep. This picturesque location nestles in the middle of woods and hence has calmness attached to it even with visitors spending time there. There is a set of islands which formed in the dam's reservoir due to its construction and the islands together with the hills around the damn provide for beautiful memories.
Now, I understand that Wayanad may not be everyone's choice of vacation but if you are an outdoor person and want to spend some good time with Mother Nature then Wayanad is the place for you. On lazy days you can just be cosy in your bed at a hotel, tree house or home stay. You can even get massages from the tribal people in the region. Wayanad is waiting to pamper you. All you have to do is let it. When are you taking your Kerala Holidays