While on Kerala Holidays, you will visit lot of "touristy places" (as I like to call them). These are the tourist attractions which are frequented by tourists. Everybody who visits Kerala goes to these places, takes photos and leaves the state. But, if you are one of the serious kinds of tourists, then you must want to enjoy Kerala like a localite. As in, do the things a Keralite would do on a daily basis. I believe that it is necessary to imbibe the culture of a city before you leave it and the best way to do that is to roam around the city and understand it the way a resident of the place would.
Remember, these are not something you HAVE to do when you are in Kerala. Follow the list only if you want to look like a localite and be accepted as a localite. You can enjoy your vacation in any manner you like. This is just another manner of maybe spending a day in Kerala.
So what is it that a Keralite would do in Kerala and how can you copy that lifestyle while you are here?
Travel in Public Transport Vehicle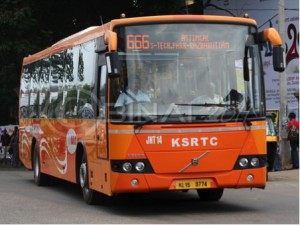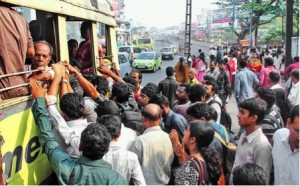 Travelling by public transport, usually buses, are my last resort when I am in Kerala. However, I always feel a sense of accomplishment after travelling in a bus. It feels like I have successfully finished a rather tough task. Other than this feeling of accomplishment, busses are very entertaining in Kerala. If you hop on to a private bus in Kochi, you are almost always exposed to a variety of cultural groups. There are commuters, students, large families visiting relatives, teenagers trying to sit together so they can chat with each other, uncles who talk too loud and even kids whose parents try to squeeze them into any tiny available space so as to keep them safe. All these types of people in one small bus. Imagine the fun you could have!
Wear clothes a Keralite would wear
Not that you have to wear a lungi or a mundu every time you go out. But wear something you see people around you wearing. For example, men in Kerala rarely wear Bermudas when they go out. So chuck the flowery tourist Bermudas you packed and wear a nice jeans or pants. The women wear chudidars or sarees on a daily basis here. Opt for something desi, like kurtas if sarees are too much of a bother.
Get the traditional clothing at a nearby shop and wear them. I must warn you that the traditional clothes may stand out in the crowd. Keralites wear them only during special occasions.
Eat proper Kerala food
Kerala cuisine is very different compared to that in other parts of the country. And Malayalees are very fond of their food. So in order to be a "proper" malayali, eat Kerala food for all your meals. Now, truthfully, I find myself unable to do this for more than a day. The food is usually very heavy and leaves me feeling lethargic. But, you are on vacation. Eat all you want to and if you feel lethargic, go sleep. That's what vacations are for, anyway.
Watch a Malayalam movie
If there are no subtitles to the movie, you would probably have to spend one of the most boring two and a half hours of your life. There is little chance you will understand a Malayalam movie if you don't know the language. However, most keralites are movie fanatics and the film industry brings out some really good movies every year. Ask someone which movie is running housefull at the time of your visit and go watch it. You might not understand anything, but it is still worth a try!
Malayalam songs!
Okay, remember that song Jiya Jale from Dil Se and you trying to figure out what the weird chorus was in the middle of the song? That is Malayalam and that is sort of a teaser to the many Malayalam songs we have here. Before getting to Kerala fill your mobile phone with some Malayalam songs and listen to them on your way here. Trying singing them and show off while you are in Kerala. If that doesn't make you look like a localite, then I don't know what will!
Add some Malayalam words in you vocabulary
Another way to look like a proper malayali is by learning a few Malayalam words for your stay in Kerala. I have written another article to help you learn some of the words which are essential during your trip to Kerala. Try using them while in Kerala and you can surely look like a local. Not to mention the extra discounts you may get at a shop just by calling the shop keeper "chetta" (brother).
Spend time at the many cafes popping up throughout the state
Most of the cities in Kerala are now getting acquainted to the café culture. Most localites, especially the youth are seen frequenting the cafes. So it would be nice to visit one such café and spend some time people watching there. A good cup of coffee never did anyone any harm anyway!
Stand in line for a BevCo outlet / Try Toddy at the local shop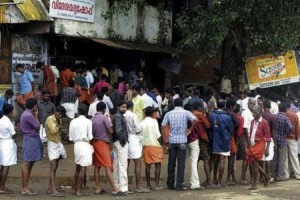 Malayalis and alcohol have a very strong bond. A testimony to this bond is the long queue you can see in front of Beverages Corporation Outlets throughout the state. I believe that you cannot make a trip to Kerala and call it complete without standing in one of those queues. You don't even have to buy anything. Just standing in that queue is an experience worth having. It is a very well mannered queue and according to a friend, people are more patient and civilized there than in queues to rides in amusement parks.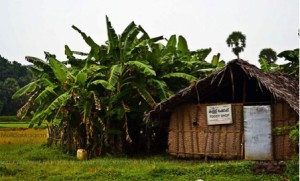 But if that is uncomfortable for you, visit a local toddy shop. You cannot visit Kerala and not taste the beverage of the land. Also, toddy shops have some really good authentic food items. Try those too.
Spend some time at a village
This is not to make you feel or look like a localite, but for you to understand the culture of Kerala. I confess that I haven't really been to many villages in Kerala. However, this one time I got a chance to visit a tribal village in Wayanad and my perspective of Kerala changed considerably in that one visit. I used a bow and arrow for the first time and then got completely disgusted when they told me that they use it every day to kill tiny animals they could cook and eat. There was only a tiny light bulb for each hut. Fans and other electronic/electrical equipments were not even in the picture.
This was a few years back but I highly doubt whether their living conditions have changed significantly. This has helped me to look at my State differently and not just concentrate on the city and the luxuries.
Also, it humbles you a bit. Makes you grateful even. So when are you booking your Kerala Tour Package