Honeymoon is always something special for every married couple's life. They want to make it more and more memorable and romantic with their better-half. Kerala gives every color of romance to the couples because of its overwhelming beauty and pleasant climate with lush surroundings. Its a land of paradise and it offers you with backwaters, romantic beaches, great boat houses, amazing hill stations and a lot more. Kerala makes it to the top of the list for the best places for honeymoon in India. Since you are looking forward for a honeymoon in Kerala, let me provide you with some of the best places that you can visit and take advantage of the nature's beauty.
Backwaters and boat houses

Kerala is known as God's own country and is a bounty for the honeymoon couples. They are a web of lakes, rivers and canals. The exotic backwaters will offer you unique feeling of amazement. Many Kerala backwaters are available that offer splendid experience to the honeymoon couples. Best way to enjoy Kerala's alluring backwaters in traditional style is by hiring a houseboat. House boats provide with traditional Kerala cuisines and an amazing ambiance with great service to be remembered for a lifetime.
Beaches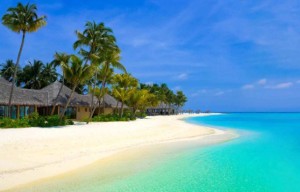 Beaches are one of the symbols of love. They add to the beauty of romance in every couple. Kerala has beautiful beaches and to add to that, it offers the best seafood- fresh and delicious. For vegetarians, there is a huge variety of traditional Kerala spiced food available which is lip smacking good! The whole of Kerala has beautiful beaches. Some of the famous beaches would be Alleppey, Kovalam, Kozhikode, Fort Cochin and many more. There is also a ferry from Marine Drive which would drop you at Fort Cochin and the journey is amazing.
Munnar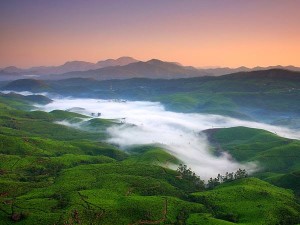 Munnar is THE romantic getaway because of its spotless greenery stretched beyond its horizon demarked with well arrayed tea gardens. The town has a landscape of snow covered mountains and hills smudging the smog of clouds. It is situated 1600 meters above sea level. Also, it is the meeting point of three rivers- Madhurapuzha, Kundaly and Nallathanni, and a home to the finest tea plantations. Activities like mountain biking, trekking, nature walks and so on must be experienced during your honeymoon to enjoy the aura of this beautiful place and your better-half.
Chembra Peak Wayand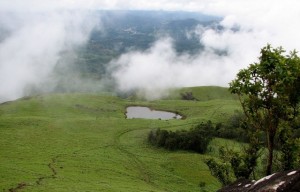 It is the highest peak in Wayand district of Kerala. A perennial heart shaped lake goes half way to the top of the peak and it is rated amongst the best honeymoon destinations in India. The lake is mostly covered with mist and snow and is an ideal place for couples' hangout. The lake is said to be perennial and always has water in it. The heart shaped lake is halfway to the peak and to reach the top of the peak, you need to walk a km or two through dense trees after reaching the lake.
Heritage streets of Fort Cochi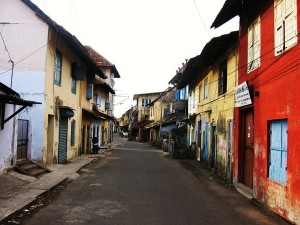 Fort Cochi's laid-back colonial charm and historic ambiance makes it a cozy cultural and romantic getaway. Wide streets of Princess street features heritage bungalows and roadside eateries, packed with non-Indian crowd. Cochi harbor offers boat jetty with picture-perfect scenery along with Chinese fishing nets and the harbor. An evening at Kasi Art's Cafe would be a refreshment because of its friendly environment and the display of property hart collection. The Princess street carries some of the best restaurants and boutique cottages, offering quaint shops perfect for purchasing some souvenirs from Kerala. Also, be cautious of not getting a hole in your pockets at the shops, time to bring out some of your bargaining skills!
Treehouse facing waterfalls in Athirappilly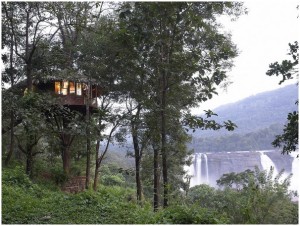 It is largely untouched by crowd that comes to Kerala for sigh-seeing and tourism. Athirappilly provides with unparalleled rumble, roar and views of waterfalls amidst the forest with privacy and seclusion. You can relax on the lush green lawn of this resort and watch the waterfall disappear as the sun sets. It is a hidden gem of Kerala and one of the most romantic places that should be visited when on a honeymoon.
These are some of the must visit places if you plan out a honeymoon in Kerala. These sweet places would make you want to plan your honeymoon again in Kerala. If not honeymoon, definitely a holiday with your better half yet again! It is acclaimed and widely accepted place for the honeymooning couples. Every couple cherishes the beauty of Kerala and would want to avail them again and again. Its a land of Paradise and one of the most romantic places in the world. It is said that marriages are made in heaven. Well then, why not be in God's own country after tying the knot?