Beaches are one of the many reasons why Kerala is a paradise for travellers. In an "unplanned" journey to Kerala there is a high possibility that you will miss some of the most beautiful beaches in the land. Here are some of the most beautiful and must visit beaches in Kerala to help you plan and organize your travel. Some of these might be lesser known and needn't be the ones where everyone goes. But I promise you, they are all worth visiting. Plan a beach vacation through Kerala and try visiting all these beaches.
Kovalam Beach – Because it's world famous
Kovalam is the most famous beach in Kerala. It is known as a hub for tourists- domestic and foreign- who are looking for a beach holiday. It is a commercialised beach with tiny shops displaying souvenirs and restaurants selling Kerala food.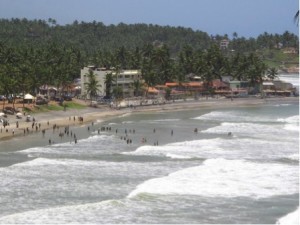 Poovar Beach, Thiruvananthapuram – Because Kovalam gets crowded sometimes
It is understandable if you are looking for a quiet and relaxed vacation, go to Kovalam and end up feeling lost. If that is the case, Poovar is the perfect place for you. Poovar beach is situated very close to Kovalam (20 kilometres) and is not as commercialised as Kovalam is. It is a smaller beach which, due to its relaxed, quiet ambience can feel like a private beach at times. But it is not. Hit this beach if Kovalam doesn't feel right and make sure you stay at one of the floating cottages in Poovar.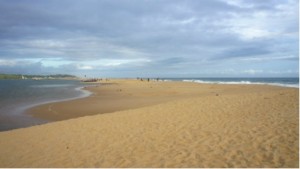 Varkala Beach, Thiruvananthapuram – Because, "vibes"
Varkala has two different vibes – one where you can connect with the spiritual side and the other where you can fly a kite and make sand castles. The spiritual side of the town gives the beach its other name – 'Papanasham' or redemption from sins. It is here that a 2000 year old Vishnu temple is situated. It is here that one comes to pay respects to a departed soul. It is around here that Sree Narayana Guru built his mutt.
Move on to the other phase and you will find an exotic beach with a cliff on one side and blue beautiful water on the other.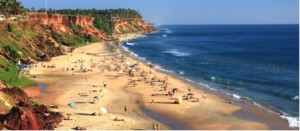 It is the perfect place to go and watch a beautiful sunset or gaze at the horizon. Friendly people and good food is bound to make your stay here super amazing. It is less crowded and commercialized. Cut off those unwanted elements in your life for a few hours and try to experience the two completely opposite vibes there.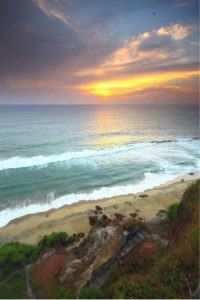 Alappuzha Beach- Because we like people-watching
Alappuzha is called the "Venice of the East". Travellers say that Alappuzha is not very different from the Italian town. But I am pretty sure Venice cannot boast of coir handicrafts, boat races and the groovy boat race song. Alappuzha is a fascinating beach with a 137 year old pier stretching into the water and an old lighthouse which attracts tourists.
My reason of going there? The sunset. And the imaginary past time trade stories I tend to make up in my mind when I sit there on the beach. Then there are the people. Children running around, distraught parents running behind them, third parties like me watching them and laughing at the situation etc. There is something about the beach, the way it brings cultures together. If you are anything like me, and are open to watching people and learning from them, this beach is perfect
Cherai Beach, Ernakulam – Because Kochi gets too busy sometimes
Collect some sea shells, eat sea food, play all ball games, fly a kite, sun bath, gaze at Chinese fishing nets, talk to some fishermen, try spotting a dolphin and thank Kerala for being kind enough to provide you with all these so close to a city. This is Cherai beach. Located just 25 kilometres from Kochi, this 10 kilometre long beach is a combination of sea and backwaters.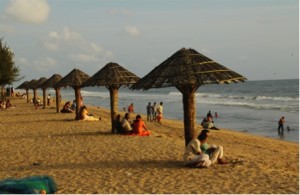 It is my go to tourist spot in Kerala. If I want to people- watch, I go there on a weekend. If peace of mind is what I am looking for, all weekdays are open. On a typical weekend evening you'll find the beach crowded with locals. Mingle with them. Some of them might have funny stories to tell you. All other days, the beach is yours. Visit Cherai with your family or friends. Everything is always a lot more fun with your loved ones around.
Bekal, Kasargode – Because, history is attractive.
You know how sometimes history can attract you to a place? Bekal fort does just that. The fort is the largest in Kerala and is about 300 years old. It was built up from sea and was used to defend the land. Huge cannons used to be placed on the tall observation towers back in the day, but today the tower offers a picturesque view of the beautiful Arabian Sea.
Right next to fort is the beach which is clean and quiet. It is the best place to swim and learn how to swim. You can just relax there. No one expects you to even move. That's how lazy Bekal beach is.
Now, these are only some of the many many beaches in Kerala. When you are choosing a beach to visit, make sure you know exactly what you want to do there. Not all beaches will entertain everyone. Also, visit beaches during the summer. Although it is fun to walk on a beach during the monsoon, it is dangerous to go into the water. Staying safe is always the top prior