Ever wondered why Kerala is such a popular tourist destination in India? Well, it's not just the lovely fishing nets and the spices, or the food and the culture, Kerala is scenically so beautiful that even the Bollywood lenses could not keep their eyes off it. And why only talk about Bollywood, name any film industry (Tollywood, Bhojpuri and even Hollywood) and they have grasped their hands on the wonderful beauty Kerala offers. From long thick forests with lovely huge elephants to calm serene colourful spice gardens, and never ending beaches, it offers best picturesque view that every scene film demands for. Here are some of the most popular Bollywood movie scenes shot in Kerala:
Chennai Express: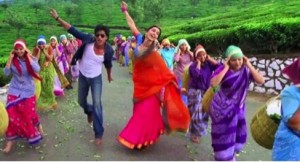 Chennai express starring Shahrukh Khan and Deepika Padukone had maximum scenes shot in Kerala with its most popular song 'kashmir tu mai kanyakumari' shot in Munnar on Devikulam lake, Meesapulimala, Wagavara and Kannimala during April 2013. There was a huge crowd in Munnar just to see a glimpse of the  Bollywood heartthrob SRK.
This comic scene where Meenamma and Rahul are arguing and her father's jeep runs down the slope and drowns is shot at the Devikulam Lake in Munnar, Kerala.
Dil Se:
Well, seems like Kerala is very lucky for SRK. He has one more movie song shot at this lovely hill station with his co-actor Preity Zinta. Yes you guessed the song right, its 'Jiya jale, jaan jale' from the film Dil Se. The song was shot in the scenic Alleppey backwaters. Alleppey is the most famous destination among even the international tourists for its backwaters. Kerala being crazily famous for its backwaters is lovingly also called as 'Venice of the east'. The backwaters of Alleppey are even more famous because of the existence of traditional houseboats cruising along the waters.
Raavan: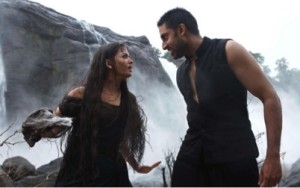 Have you heard about the Athirapally Waterfalls? This is where the song 'behne de' from the film Raavan was shot. The lusciously thick and as white as a cotton, Athirapally waterfalls is a must visit place once in life. Some parts of the film 'Guru' has also been filmed here. Seems like Aishwarya Rai and Abhishek Bachhan got enchanted by Kerala's charming spell too. Although they are wonderful looking for your eyes and give you a tempting view to play under these falls, you should beware of those slippery rocks though!
Madras Café:
The heart of Kerala, which is also the most happening city in the state, 'Kochi'! The shooting of many scenes of madras café was done in the fort Kochi of Kochi. In this movie again, the Majestic Athirapally waterfalls have been shown off again. This place is worth a visit and when you do so, don't forget to take out time and give a visit to other attractions nearby like Bolghatty palace, Jew town and Marine Drive. The journey here will definitely give you many experiences and moments worth mesmerising for a lifetime.
Life of PI: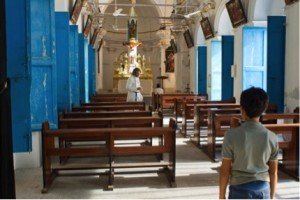 It's not just the Indian film industry that is attracted to the Keralian scenic beauty. Even the international directors and producers have their eye on the wonderful destinations that are perfect for filming nature. One such popular example is the Oscar winning movie 'Life of Pi' directed by Ang Lee and stars Irfan Khan which is based on survival of Irfan Khan with a tiger on his boat. The movie was shot in Munnar and was a blockbuster hit after its release. The most memorable scene of Munnar in this film is when Pi visits a church and is curious about all the religions. He realizes all religions stand for same cause and all have equal values.
Few other movies that were filmed in Kerala for small scenes include Tashan, Pukar, Gupt, Julie, Bombay, Virasat and Nishabd! Kerala is a Bollywood hub and is being recognised worldwide as the time passes. Not only it gives you a taste of our Indian Cinema but can offer the calmest silent getaway for a perfect weekend you have been dreaming for so long. Infact I suggest you to visit all these places, dance onto all the above songs and create your own Bollywood memories to laugh and cherish on later! So, when are you packing your bags and heading to these famous Bollywood destinations to get handful of photographs to flaunt around and create wonderful memories which will always bring a smile on your face when you look back at them in your future! So when are you planning your Kerala Holidays