Kerala is extremely famous for its cuisine. The food here is extremely different from that in other states. For one thing, Kerala is the land of spices. So, every food item you get here will be full of very different flavours. And then there is the fact that most people in the land are non-vegetarians. I remember once visiting the northern part of Kerala and being served with mutton for breakfast. For someone who had never had anything other than dosas and idlis for breakfast, that was quite a cultural shock.
These sorts of food shocks could happen to you also if you haven't researched about Kerala's cuisine. Also, I am someone who believes that a traveller must always eat the food of the land he or she visits. What is the point of travelling all the way to Kerala if you end up eating paneer and chana-batura?
Oh and by the way, if you are a vegetarian, I am extremely sorry for the lack of vegetarian options in the list. You can eat some masala dosas and treat yourself to an occasional sadya. I honestly don't have much idea as to what vegetarians eat in Kerala. Apologies.
1. KAPPA MEEN CURRY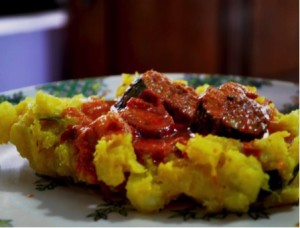 This is possibly one of the tastiest dishes I have ever tasted in my whole life. And no, I am not exaggerating. This is the dish I miss the most the minute I leave Kerala. I have not been to spot tapioca as a delicacy in any of the menus I have seen outside Kerala and this makes me sad. The fish curry here is made in mainly two ways according to some friends of mine who are culinary "experts". One type is with coconut milk and the other with tamarind. Both these types of fish curries taste delicious and do not forget to try them both with some tapioca on the side.
Also, try and say kappa and meen curry when you order. Keep it local.
2. PAROTTA AND MEAT ROAST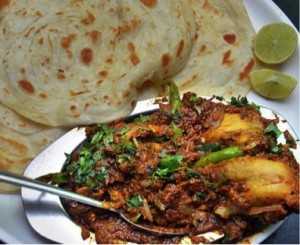 Kerala parotta (and not paratta) is something my non-malayali friends sometimes crave for. It is available in most parts of India now but since you are in Kerala, the land which came up the brilliant idea of parottas, do not forget to try this delicacy. With parotta, the usual combination is a dish of roasted meat of some sort. You can eat it even with a vegetable stew and you will have an amazing meal.
Kerala parottas are usually made of Maida. However, if you someone who try to avoid maida, you can go for wheat parottas, which according to me tastes better than the usual parottas. Try them both. Let us know which one you like better.
3. SADYA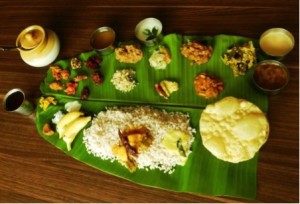 Now is the time when all the vegetarians can jump up and down in joy. Sadya is the traditional meal of Kerala and is usually eaten during special occasions of festivals. However, these days, sadyas are arranged in most hotels and restaurants everyday for the visitors. Sadya is essentially a heavy meal with around nine curries of different varieties, rasam, sambar, papad, kheer and pickles. After eating it, you'll probably feel like you could never eat anything ever again in your whole life. But trust me. That feeling will last only till the next meal.
The food is totally worth eating and the meal itself is an experience. See if you can finish everything they put on the banana leaf for you. If you can, you certainly have a talent.
4. PUTTU/APPAM AND KADALA CURRY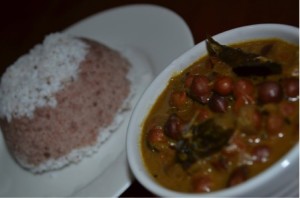 The breakfast dishes in Kerala are also different from the usual dosas and idlis you get as south Indian breakfast item. Puttu is a steamed rice flour dish with coconut scrapings on it. Kadala is the chana you get in North India. Even appam tastes good with the Kadala Curry. Try different breakfast items each day. Healthy and tasty way of living I would say!
5. JACKFRUIT
Keeping in line with being healthy, why not eat fruits when you're in Kerala? If you visiting during the Summer, you will have a chance of eating some jackfruits. Now, I don't know if jackfruits are indigenous to Kerala or not, but I have seen jackfruit trees growing in Kerala and most shops have jackfruits on sale during the summer. So it is easily available here and you should definitely try it if you haven't already. Cleaning a jackfruit and making it edible might be bit of a trouble but some shops have cleaned pieces of jackfruit which you can enjoy without going through the sticky affair of cutting a jackfruit.
6. ALL THE SNACK ITEMS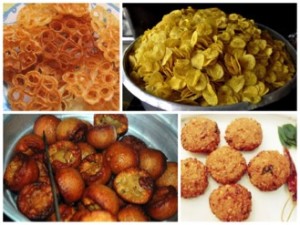 Keralites love eating and even the small affair of afternoon tea is full of options. You have pazham pori (banana fry), achappam, kozhalappam, kozhiada, uzhunnu vada, parippucada etc to have with you tea in the evening. They are all tasty and sometimes are available in supermarkets also. So you don't necessarily have to wait till tea time to full your tummy with these snacks.
7. CHIPS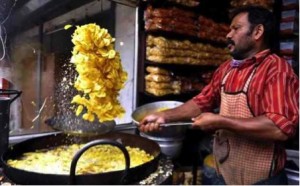 And of course, what is the authenticity of a list of food items from Kerala without including chips in it? I often say that Kerala fries everything. Banana, Jackfruit, Tapioca etc etc. Everything tastes good when some coconut oil is involved in its making and this is true for the chips also. You can buy some and take back home also. All your foodie friends will be obliged to you for your kindness. Buy them when you arrive in Kerala. Nibbling on junk food is sort of a travel necessity.
8. MALABAR BIRIYANI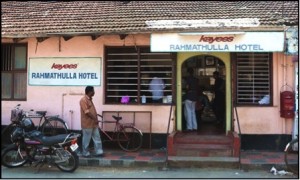 I don't know what makes the Malabar biriyani different from the biriyani you get from other parts of Kerala. But there is a difference. The biriyani from Paradise in Kozhikode and Kayees in Kochi are my most favourite of all time. They taste excellent and will make you want to pack some for later. The flavours aren't always very strong, but they are definitely enticing.
9. TENDER COCONUT WATER
Now, if you are anything like me, you are not a fan of chips. Not because they are unhealthy, but you just don't like the taste. In that case, go for the tender coconut water when people travelling with you decide to empty a packet of chips. Mostly every corner in Kerala has a dude selling tender coconuts and trust me, they are one of the most refreshing drinks ever! The state government has also come up with stalls selling tender coconut water. So if the coconut dude isn't around the corner, one stall will sure be.
Also, roaming around in Kerala can tire you out. Make sure you keep yourself hydrated.
Have the photos made you hungry and left you craving for some good Kerala food? Don't over think about whether or not you should try the food from Kerala. As long as you eat from a clean, hygienic place, the food will not harm you or ruin your trip. Bon Appétit!
So when are you planning your Kerala Holidays?