Tired of the hustle and bustle of daily life? Are you looking for a vacation where all you are expected to do is eat, sleep and then eat some more? Then Kerala has some of the best destinations where the lazy you can take over for a few days. Relax and recharge yourself in one of these vacation spots. Put that mobile phone in silent mode and lock that laptop in the cupboard. Then enjoy these beautiful places in Kerala.
1. Vagamon
I keep talking about Vagamon a lot and people tell me to talk about some other place in Kerala. But the thing is, Vagamon is the sort of place I go to when I need to get away from the swiftness of everyday life. The minute I reach this place it is like time has slowed down. There is nothing to do, nothing to accomplish and no dead lines to meet. Do whatever you want to do at your own pace. Feel like taking a walk? Take a walk. Want to sleep? Sleep? Eat some food? Eat. Life slows down to that extent there and this truly amazes me.
And hence Vagamon again makes into another one of my many lists. Go there. Quiet and peace is guaranteed. A refreshed you will return from these meadows.
2. Poovar Beach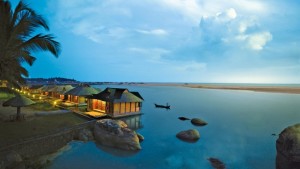 How can I ever make a list without including a beach in it? Poovar beach is one place which is very accessible to the public but is still not visited by travellers often. The beach is secluded mostly and your folding chair, a book and you can have a quiet warm evening at the beach. The floating cottages there are an absolute added advantage too.
3. A house boat getaway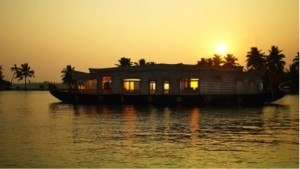 Imagine this scenario… it's twilight. You are on a boat, which looks like a home floating on water. Dinner has been served. There is silence all around you. An occasional ripple on the water around you echoes. You can read, listen to music, watch a movie or talk to the people who you are with. Want this life? All you have to do is book a house boat cruise in Kerala.
House boats may not sound like a safe or luxurious idea, but the house boats we have in Kerala are not just plain tree barks floating on water. They are huge, exotic barges with all modern day conveniences attached to it. House boat cruising is available on Aleppy Backwaters and in Ashtamudi Lake. All you have to do is choose the water body you want to spend time on, book a house boat there in advance, pack a bag and go.
4. A Tree House Vacation
The next best thing to spending a night on water is spending the night on a tree house. In the middle of nowhere, with nothing but nature to keep you company. As a kid most of us must have had a desire to build a tree house on our backyards but only few of us got the opportunity to do that. Now, all you have to do is plan a trip to Kerala to make this childhood dream come true. And these tree houses are nothing like the tree house we would have made on our backyards. These are actual houses with most modern amenities built into them.
The best part is, they are usually set deep in the forests and chances are, the network connectivity to these tree houses will be minimal. You know what that means… no phone calls to disturb you in your quiet vacation!
Most hill stations in Kerala have resorts which provide tree house facilities. Check them out in Munnar, Thekkady, Athirapally, Wayanad etc.
5. Nelliyampathi
I have noticed over the years that human beings ruin the peace and quiet of any place they decide to visit in bulks. One such place is Nelliyampathi which is situated in Palakkad district. The main attractions in Nelliyampathi are the tea, coffee, cardamom and orange plantations. With its equitable climate and non-modern ways of life, Nelliyamapathi is idea for vacation away from busy lifestyles.
6. Marayoor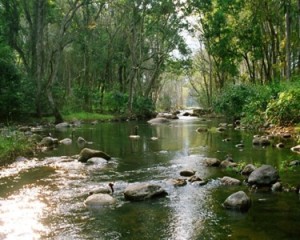 Munnar is a destination most tourists in Kerala like to visit and hence it inevitably becomes crowded and commercialized. The beauty of the place makes up for it, but Munnar is not ideal if you are looking for a quiet vacation. However, about 40 kilometres from Munnar, Marayoor is situated in the middle of sandalwood trees. It is less frequented by tourists albeit being beautiful and hence this peaceful and picturesque hill station is one to consider if you want a quiet, undisturbed vacation.
7. Gavi
I have never been to Gavi. But I saw a Malayalam movie which was set in the place and I couldn't help but notice how pretty the locations were. So, I snooped around a bit and found that Gavi was metioned in 'Alistair International' which is a world acclaimed tourism major as a leading eco-tourism centres and one of the must-see places in India. This, honestly, did not encourage me to visit the place but a Google Image search sure did. Just check out these images and tell me you don't care about how peaceful and serene this place looks.
Wouldn't it be fun to finally visit a place where Mother Nature still has a hold on her land? That sure guarantees a quiet vacation.