Do you sometimes feel like you want to pack up a nice little meal and travel to some place where no one would find you? So maybe I cannot guarantee you all that, but I definitely know a place where you can drive off to with a packed picnic lunch.
Vagamon is a hill station in the Idukki district of Kerala. The equitable climate in this small town and the rolling green hills are what attracts tourists into this place.
The best part of Vagamon is that there are so many hills there that you can easily claim one to be your own and settle down for the day. The hills are green and picturesque and never ending. The cool breeze will keep you fresh. Getting to Vagamon isn't hard either. There is no railway station or airport in Vagamon and hence tourists will have to rely on the cities close by to reach Vagamon. The nearest railway station is Kottayam which is about 70 kilometres from Vagamon. The nearest airport is Cochin International Airport and tourists can get a pre-paid taxi from there to Vagamon. Erattupetta is the nearest town to Vagamon about 25 kilometres away. The roads to Vagamon are in fine condition and so the town is well connected with the nearby towns.
The journey itself is one of a kind experience. If you are a bike enthusiast and loves high range riding, get a motorbike from Kochi and drive up to the hill station. The drive will be worth the effort.
WHAT CAN ONE DO ON THE HILLS?
The green, clean and beautiful hills in Vagamon are great getaway place if you are tired of the city, the pollution and the noise. There is a lake in between the meadows and the view is extremely breath-taking. You can have a picnic day on the meadows with your friends and family. If you are in the mood to read a book you can get yourself a folding chair and read a book. Bring your portable speakers and you can listen to music. There are so many things you can do there!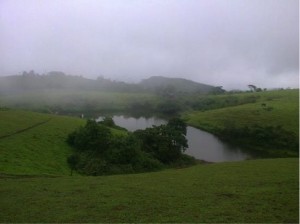 To be honest, the last time I visited Vagamon, I did not feel like doing any of the things mentioned above. So, I took a walk. Climbing up and down the hills isn't very easy and it takes up a lot of your energy. But guess what? When you are tired, all you have to do is lay down on the grass for a bit. You can even take a nap on Mother Nature's lap.
Just a friendly reminder though. And this I can tell you from experience. If you are prone to getting lost, please make sure you go trekking in a group. I remember the time I accidentally took a nap while trekking alone and my left my family almost in tears when I didn't pick up their calls.
WHAT IF THE HILLS ARENT FUN ENOUGH?
Don't think Vagamon is only about the hills. Kurishumala, which translates to "the mountain of the Holy Cross", is in Vagamon. The trek up to the top of this hill is easy and can be really refreshing with trees on both sides of the trail and a cool breeze on your face. Once up, there is an Ashram there which gives off amazing positive vibes. An Indo- Swiss dairy farm is also situated in Kurishumala. The monks in the Ashram manage the farm.
There is also a pine forest in Vagamon. Go experience the mythical look the fog and pine trees create in the forest. This sort of setting is rare so don't forget to take many 'dramatic' pictures.
Now this last part of Vagamon is something I've wanted to experience for a while now. Every year Fly Vagamon comes to the meadows which is the four-day event organised by the Adventure Sports and Sustainable Tourism Academy (AASTA) and Kerala Tourism in the first week of April. The adrenaline rush you get by running off of a hill is surely a feeling to be experienced at least once in life. So next time you plan a trip to Vagamon, check if this International Paragliding Festival is in town and if it is, don't shy away from facing this fear.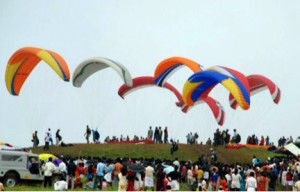 Vagamon is perfect for a weekend getaway. Do not expect this tiny town to provide you with many entertainment options. It will give you a place where you can get some peace of mind. You can read, sing, dance, talk or nap on the meadows. And if you don't want to do any of these, just stare into nothingness. Even that feels better when there's nothing but beauty around you! Find your own entertainment options and let us know.