Planning a trip to Kerala? There are some things you should know before hand! First thing, you will not return back home without a touch of a Keralite in yourself. Second thing, you are not going to want to take that part out of yourself at all. And thirdly, this is only possible if you follow the mantra 'when in Kerala, be a Keralite. Wanna know how? Read along:
Wear lungi
Oh! How relaxing it must feel to those men who roam around in lungis. If you want to taste Kerala in real terms, roam around in lungis just like the locals. You can find them almost anywhere and everywhere in Kerala. Also, there will be more than expected hands to help you out with lungis, Keralites just love making people smile. Also, if you are planning on visiting the sacred Padmanabhaswamy Temple (which you really should), you will not be allowed to wear anything else rather than a lungi if you're a man and a saree kind piece of clothing if you're a woman. Lungis are known as 'Mundu' in their local language while for the women's lungi the name is 'Mundum neriyathum'. These lungis might either be plain white or colored. Either way, they look extremely soothing and feel the same way. And hey, where else would it be okay to wear it on the streets and be surrounded with the same kind?
    Eat your heart out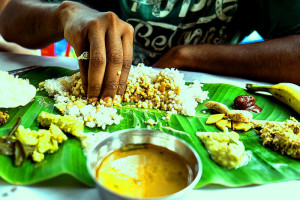 Spoons and forks, what are those? Do not even touch them here. At all. Because Kerala food tastes the best when eaten with ones own hands! Haven't we been taught to eat with our hands since childhood in India but then later are forced to change ways to fit in the sophisticated world? Well not anymore. Dig into that pile of Kerala rice and the large variety of rassams with your fingers, lick them after every bite if you will, anything and everything is acceptable here. Large bites, small bites, slurpy bites, everything! It really is true what the local people of Kerala say, until and unless all your five fingers are dipped in your food you will not truly enjoy the authentic taste. And its not just a bye bye to spoons and forks but also to the plates. You are served your food only on the large wide banana leaves which are sturdy enough to let you eat in ease yet add in giving you the most authentic taste because when you mix your food on that leaf, you will get a little taste and aroma of it.
Quench your thirst Kerala style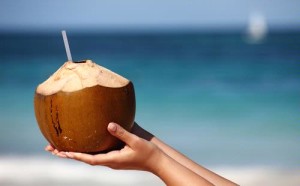 Feeling thirsty? Well if you were somewhere except Kerala, you would want to grab a bottle of cold drinks or mineral water. But hey, that's not where you are right? you are in Kerala, gods own country! So why not quench your thirst with something which would taste like it came directly from gods own pond? Yes you guessed it right. Coconut water! You'll find them at almost every next step in Kerala, and believe me when I say this, the taste of coconut water is unarguably the best here. And that's not it, return the empty shell to the vendor and he will give you the sweetest part of the coconut- The Malai! I can bet you on this, you will forget what other drinks taste like but at the same time will not get bored of having it over and over again!
Fish your own fishes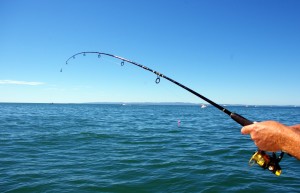 People here believe in picking their food for themselves. Take your fishing rod and get started with your dinner preparations! It is just so much fun to go fishing in Kerala. You could use some help from the local people of Kerala when it comes to choosing the location where you will find the best fishes! And when you catch hold of some of them, watch how the people there cheerfully applaud for you. It is such a happy place to be at, why not be a happy person and spread the same vibes too? I assure you, no fish would have ever felt as tasty as the one here, which you got to pick all by yourself!
Get fit by rowing
Don't spoil the fun by wanting to travel in buses or other vehicles. When else would you get to row your own boat? A little help and tactics and there you are, all set to go exploring all by yourselves. It isn't that difficult to find one boat because just as how common mechanical vehicles are in other places, boats are the main modes of travelling in Kerala. You will be blessed with whiffs of fresh air and the touch of nature's beauty while boating. The natural beauty is so serene that you would not want to miss any of it by sitting on fast speeding vehicles, boating will allow you to grasp all of it with all the time you need.